Interiors and Construction
At Proasur we have extensive experience in the management of highly complex projects in various fields, from cultural to industrial. This experience allows us to offer our clients comprehensive Project Management, Technical and Engineering Development, as well as Design and Prototype Development services. Our differential value is our ability to materialise innovative and original concepts.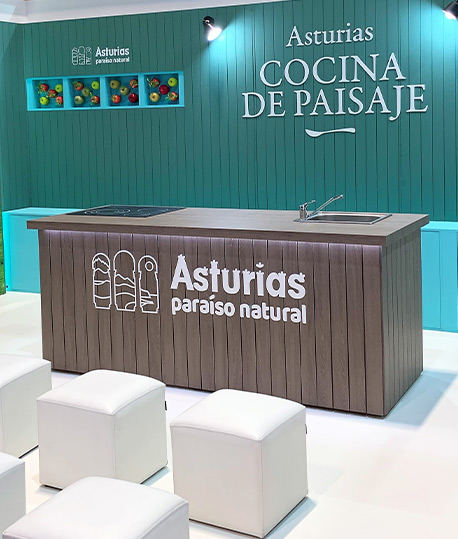 Integration of specialities
At Proasur we have a team of highly qualified engineers and technicians who are responsible for integrating all the elements necessary for the development of the project: audiovisual equipment, lighting, electrical and mechanical installations, interior and exterior architecture, etc. to obtain fully consolidated and viable three-dimensional models for their manufacture with the best materials and techniques. These 3D models allow us to guarantee a later assembly on site with a perfect adaptation to the conditions and requirements of each of the specialities.
We have been designing, manufacturing and installing mechanical interactives for museums and exhibitions for more than 30 years. Our mechanical interactives are devices that allow visitors to interact with the content in a playful and educational way. Our aim is to create interactive experiences that stimulate curiosity, learning and fun for visitors, adapting to the themes and audiences of each project. We have extensive experience in high quality and original mechanical interactive projects, such as those developed for WOW Porto.
We are experts in the engineering design of suspended structures and their installation for the museum and interior design sector. Our team of engineers is able to develop tailor-made technical solutions for each project, taking into account the client's specifications, the characteristics of the work and the regulations in force.
We offer a comprehensive service ranging from the preliminary study and structural calculation to the manufacture and installation of the elements. We have extensive experience in large-scale and technically difficult projects, such as the Oman Across the Ages Museum or the Qatar Olympic Museum.
Starting with the most creative and ambitious designs, we apply the most advanced engineering techniques to develop and manufacture prototypes that can be used as validation elements, before carrying out the construction on a larger scale or with the definitive materials, which in many cases are more costly
In this way, we guarantee the technical and economic viability of the projects, as well as the satisfaction of our customers.
our electronics and technology team designs, assembles and commissions different control systems that are highly efficient in terms of cost and energy, in order to control, automate and/or synchronise the different exhibition or experiential elements (audio, video, lighting, mechanical elements, etc.).